Product Features

A 166 page pdf eBook explains the components of a marketing plan and outlines practical marketing theory in non-technical language. It provides helpful tips and suggestions for completing a plan to suit your business. It includes a series of completed templates which lead to a sample marketing plan.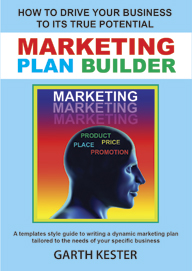 A complete Sample Marketing Plan is included which is the culmination of the completed templates in the eBook.
A free pre-formatted 64 page Microsoft Word document with blank templates for your completion appropriate to your specific business. At each step there are pointers to remind you of the content applicable to that step. Some sections include Microsoft Excel spreadsheets for your completion as appropropiate. You will need to have a working knowledge of both Microsoft Word and Microsoft Excel for completion of this step.
When complete the marketing plan will:
Assist you to identify opportunities in the marketplace that your business can profitably pursue
Increase your productivity through reducing wasted time and effort
Help you concentrate on the things you do best
Improve utilisation of your finite resources.
Give you a blueprint to enable you to build your business systematically
Help you coordinate every function in your business so that each part is working towards the same goals
Provide you with a practical day-to-day decision reference points
Give your business a sharper focus for your customers and employees
Give you an edge on your nearest competitors
You will then be ready to take your business to the next more profitable level.
The means to achieve all this - and more - is yours for US $2.99